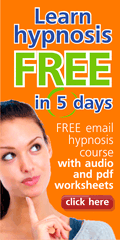 Self Hypnosis for self confidence is one of the most powerful methods of improving your daily life skills.
Do you want to your subconscious mind to breed unstoppable confidence?

Do you want a personality that others find magnetically attractive?

What would it be like to overcome doubt and negativity that keeps you from realizing your full potential?



With this CD there is nothing stopping you. You will benefit from increased confidence and self assured behavior. People will be naturally drawn to you in a way that you never before thought possible.
The newest techniques in hypnosis performance, combining up-to-date hypnosis inductions and the latest in NLP.

Digitally mastered sound.

Inducing music and trance deepening sounds intertwined with hypnosis.

A pre-talk that explains what hypnosis is, how hypnosis works and the common unknown facts of hypnosis.

A running time of 45-55 minutes in length.

A complete and full hypnosis session.
Confidence is Magnetic
Develop the kind of charisma and charm that one can only have from extreme self confidence. This will allow you to instantly connect with people in a way you never imagined possible. Your zest for life will return when you start to see the results instantly from this newfound confidence.
Self Confidence Through Hypnosis