Discover Self Hypnosis has created a series of Self-Hypnosis CD's to help you achieve your goals in the comfort of your own home. These CD's will teach you self hypnosis in the following categories:
Quit Smoking
Weight Management
HypnoBirthing
Relaxation/ Stress Reduction
Achieving your Goals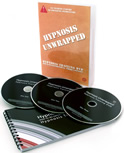 Hypnosis Unwrapped - Hypnosis Training DVD
(Triple DVD)
The unique, world first, hypnosis workshop in your own home!

Self Confidence Trainer
(Double CD)

The Self Confidence Trainer leads you step-by-step towards greater confidence and self esteem.